After being away from the news for a long time, Nick Bendtner is back in the news for being on his reality television show with his girlfriend and model Philine Roepstorff.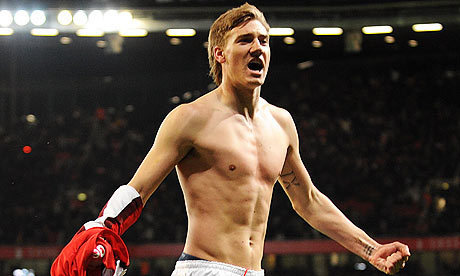 Lovingly known as Lord Bendtner, he's hopping on to another adventure from a career that was already full of the limelight. In his career, Nicklas Bendtner has made more headlines for his off-field activities than his achievements on the field.
According to some sources, Nicklas Bendtner and Philine Roepstorff are signed by the Discovery Network and the reality television show is about to go on air during the spring.
The former Arsenal footballer is all set to become a television personality. The 32-year-old is seeking a new career after leaving his home football club, FC Copenhagen. Although Nicklas Bendtner has not announced his retirement officially, he has made some distance between him and the game.
The Danish striker has spent nine seasons playing for Arsenal and he has scored 45 goals in 171 matches in the English Premier League before leaving the club in 2014. Nicklas Bendtner has also played with Sunderland, Birmingham and Nottingham Forest and for clubs like Juventus, Rosenborg, and Wolfsburg.
Bendtner has said that he and his girlfriend are used to being in the limelight. Since they are constantly in the media, many stories are written about them out of which only some are truthful. Bendtner and Philine have thought for a long time that if their relationship is strong enough to handle all the attention that will come on their lives if they'll be on camera all the time. Philine Roepstorff added that they wanted to break the many prejudices and clichés surrounding a relationship between a footballer and his girlfriend who is a model.